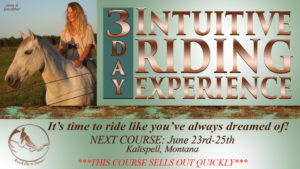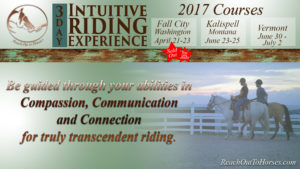 http://www.reachouttohorses.com/mtclinics.html

JUNE 23-25, 2017
3-Days of Intuitive Riding with Anna Twinney

Day 1: Obstacle Course at Liberty – with emphasis on the horse's language combined with life lessons

Day 2: T.L.C. and Intuitive Riding – connecting energetically with our
horses. Mutual trust and connectedness
Day 3: Animal communication and Enhancing horsemanship; listening to your
horses wishes – breaking old habits and moving into the new
Kalispell (Kila), Montana
Come see what is truly possible when you go within and beyond…
Day 1: The Obstacle Course at Liberty – Friday, June 23rd, 2017 – 9am – 6pm
We aren't going to waste any time. On the first day you are "jumping into the deep end" of equine communication! The obstacle course is one of the most effective tools in horsemanship and you will join your equine partner at liberty. You will learn how to communicate effectively with your horse, truly gaining the partnership and connection needed for anything you do together. It is a wonderful way to take your partnership to a much deeper level and have some fun at the same time. It is also a true test of that partnership. It's a time to strip you of all paraphernalia, connect through an unspoken language, and explore your horses' true voice! And it doesn't matter how many times you've been in the obstacle course. Whether this is your first time or your 20th, each trip into the obstacle course will teach you another, a different, a deeper lesson about you, your horse and your horsemanship.
Anna developed the course over 15 years ago, and since then thousands of her students from all over the world have worked with the Obstacle Course for a myriad of uses. You will learn how to apply this safe and effective training approach to deepen your use and understanding of the horse's language and potentially solve all sorts of problems. From preparing horses for the trail, engaging school and therapeutic riding horses, spook-busting, through to establishing a communication system with performance horses and honoring the needs of the retirees, Anna uses the obstable course for any number of reasons. She will show you how to read the subtleties of your horse's body language and direct your horse on the ground.
Once you develop a rapport with your horse and an understanding of their intricate and subtle language, the fun really begins. Discover what your horse has to say and the life lesson they have to share with you. Don't think it's possible? Don't think they have anything insightful or worthwhile to say? Prepare to be Amazed.
Day 2: T.L.C. and Intuitive Riding – Saturday, June 24th, 2017 – 9am – 6pm
You will begin with Anna's exclusive Trust-Based Learning and Compassionate Communication. This is the foundation of the ROTH program's in-hand work… and there's a reason for it. You will create a solid footing with your horse, set him up for success, and achieve that connection of grace and ease you've always imagined. 

Using Anna's TLC methods you will be able to:
Understand the importance of intimacy and relaxation exercises and how to use them correctly
Overcome your horse's challenging habits and behavior patterns
Prepare your young horse for his first saddle, bridle and rider
Desensitize your horse to common situations and tack
Prepare your horse for doctoring and medical examinations/emergencies
Earn your horse's trust and learn how to continue to gain and build his trust
Develop methods to read your horse's mood, personality, character, likes & dislikes
Create a toolbox to foster that perfect connection on a daily basis
And much more!
Then you will head to the saddle (or in-hand, your choice) incorporating mindfulness riding, potentially leading to bitless and even bridleless riding. You will learn to come away from control and compliance, move into communication and connectedness, and begin to ride with your mind, not just your body.
Day 3: Animal communication and Enhancing horsemanship;  
Sunday, June 25, 2017 – 9am – 6pm
This day may have the shortest description but it will have the biggest impact on your riding and your relationship with your horse.
In the morning you will begin with animal communication. You will learn how to truly give your horse a voice and be a real partner. Discover how to connect with them, mind-to-mind and experience the most subtle and intuitive riding of your life.
Then after lunch, you will enjoy the Grand Finale! Anna will show you how to take all that you've learned throughout the weekend and open up a whole new world of riding, horsemanship and partnership. She will work with you individually to help you solve any problems, break old habits and awaken to a new enlightened relationship with your horse.
Anna is raising the bar and inviting you to take your riding and your horsemanship to a place you might not have even dreamed possible. 
By the end of the 3 days you will understand why we say that the ROTH program is the most unique and comprehensive horsemanship program in the world. There is nothing like it anywhere it and will help you develop the relationship with your horse that you've always dreamed of having. 
Space is extremely limited to only a small group of people, and it will sell out fast, so don't delay or you will miss it!