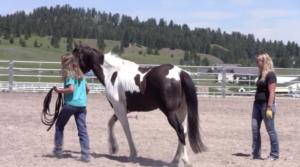 Over dependance on technology – computers, cameras and cell phones can create disconnect with reality and relationships. When used in a manner that deeply analyzes content that is captured, the depth of awareness can be life changing. I had been considering videoing less because of the disconnect that occurs during the technology recording process… Turns out I would still be my old self had I not revisited the value of reviewing video content with fresh eyes.  I teach 'seeing'  to my students in every course, I was overdue for a major breakthrough.
For decades I've video'd horses – horse events, clinics, lessons, equine bodywork sessions. I've also video'd dogs, wildlife, family vacations, life events. Over the past two years it has become increasingly apparent that there are endless levels of perspective and connection when capturing life's valuable moments as well as learning opportunities. From capturing the simple joy of time spent with family to the depths of an equine bodywork session where the slightest of blinks and breath changes gives huge insight into areas of discomfort – one must know how to capture exactly the views that show the connection of desired intent.
Being behind the lens for the capture– there is an extreme level of disconnect that is required to catch – via zooming, positioning, light balance, background, foreground etc. – the essence of overall images and details. Years behind the lens, then in front of the computer screen is what it takes to do this job… What brings out the value of the capture and the analysis? Why is some of the content insignificant and some breath taking? It boils down to the educated eye – to 'see', and then feel the heart and soul of the analysis. In other words, analyzing the insight of the intent of the capture, asking the tough questions during analysis, deep soul seeking connection questions – how, why, what if, level of comfort, discomfort, anxiety, fear…
Then the analysis of viewing – especially with equine bodywork or levels of horsemanship – what are all the details that show up – patterns, trends and how do the details change when viewing by different mind set and perspectives?
Now comes the interesting part and valuable time spent – considering, thinking, putting it together… What are the highlights of significant points of interest and what details don't seem to matter and then describe why. Finally – what is the connection between significant and insignificant? Overall theme? Lessons to be learned?
Finally, reflection on the learning situations… Is this situation one that has occurred in the past? Is it a reoccurring theme? One time event? What needs to happen in order to heal, balance, modify, release, strengthen?
Exhausting detail, no? Life can be lived in the fast lane – going from one thing to another without reflection, but literally – what is the point? There is always a point… reflection is valuable, painful, enlightening… Application is life changing.
The best life lessons are experienced when the emotions are deeper, more painful or joyful. Earlier this year I was co-host to a horse clinic for the second time. The clinician has knowledge, experience, wisdom, skill beyond measure… I wanted to learn what she has to offer. I helped others get ready who were signed up, offered my best horse to someone else and took another horse. I was deeply connected to the content of the event – wanted to learn as much as I could as well as playing several roles. The clinician stayed at my house, I have many animals to care for at home. I acted as videographer – I video'd the event. All this meaning one moment I was connected to learning, connecting to caring for others, then disconnected – an observer – to view from the videographers perspective, then involved as a participant – needing to connect with my horse – combined energy to work and learn together…
Hindsight – it was an impossible task given my level of fatigue at the start. As it turns out this didn't hinder – it actually helped – because I couldn't keep my guard up. The first two days were manageable. The last day, my horse was anxious about being in an area with others, then alone, with my skill set and his actions, he was inconsolable. The lessons I learned this third day were painful – being highly empathic – I could deeply feel his anxiety yet could not help him find comfort. The clinician, Anna Twinney could help him with a simple compassionate conversation. She said he was doing the best he could, pointed out his feelings, responses, she emphasized with him and redirected his anxiety – he responded each step of the way, every time she asked for a bit more – he really tried. I got it – the one thing with the one horse I hadn't been successful at – a way to deal with his anxiety. I wasn't concerned about him being dangerous, I was interested in behavior modification, how to help him override his innate characteristics of anxiety and evasion. It wasn't until months later when I revisited the video of the events on all 3 days, that I gained a fuller, different perspective from what I felt that day. I also could see deeper into many levels of the experiences. Watching the exercises, actions, reactions I gained life changing realizations that regained and directed my power and focus of compassion and intent.
Reflecting on the past in a non exhausted, learning state of mind empowers the future… I am recommitted to capture these once in a lifetime experiences via video, and then analyze, reflect and incorporate the meaning into my life. Personal growth leads to richness of mind, body and spirit.
However you can create this in your life – do it!